Top of the Rockies

Historic Leadville and Climax

Leadville, at an elevation of 10,200 feet is the highest incorporated city in the country. Mines in the Leadville district have produced nearly $2 billion in gold, silver, lead, zinc, copper, iron, bismuth, manganese and molybdenum. However, Leadville's production of molybdenum has been easily surpassed by Climax Molybdenum.

See: http://cozine.com/1996-september/the-history-of-colorados-climax-mine-by-steve-voynick/ for more history.

Leadville at 10,200 feet Removing Bartlett Mountain at Climax Mine

Winter fun in Leadville Time to wet your whistle

While in Leadville as usual we stopped at Melanzana's, the maker of "Original, Functional, Soulful" outdoor clothing designed, cut, sewn, and sold on site.

If interested: www.melanzana.com

Frisco and Copper Mountain

While staying in Frisco for a week, we hiked several of our favorite trails-Mayflower Gulch, North Ten Mile Creek and Shrine Mountain.

The Shrine Mountain Trailhead is located about 3 miles from Vail Pass on Shrine Mountain Road.

Shrine Mountain has a different geology than most of the rest of the Gore Range. The mountain is known for the several outcrops of sandstone and conglomerate which is a deep red color adding to the scenic beauty of the area. From the summit of Shrine Mountain, you get a great view of the rugged central Gore Range Peaks to the north and Mount of the Holy Cross to the west. To the east is the Tenmile Range and to the north, the long snake like and gentle Wingle Ridge. This was a "Best 10" day in the mountains with our 5 mile round trip hike reaching an elevation of 11,888 feet

A dusting overnight Rocky Mountain high

The top of Shrine Mountain High climbers

Rocky Mountain National Park

We started on the west side of Rocky Mountain National Park near Grand Lake at an elevation of 8400 feet. From the Colorado River Trailhead at 8990 feet we slowly ascended for 4 miles to the abandoned site of Lulu City. This route parallels the river, passing old mining remnants along the way and offers trail users a glimpse into the past. The trail meanders along the eastern bank of the Colorado River, just below Shipler Mountain while enjoying sweeping views of the Colorado River Valley.

Jim crosses the headwaters of the Colorado River

(click on picture for video)

Pat does not get wet The aspen are bursting with color

On a very wind day we travel from Grand Lake to Estes Park on a long route through Poudre Canyon.The Poudre Canyon is a narrow canyon approximately 40 miles long, on the upper Cache de Poudre River (called the "Poudre" for short). The canyon is a glacier-formed valley through the foothills of the Front Range of the Rocky Mountains near Fort Collins. We then continued west from Loveland to Estes Park through Big Thompson Canyon, thus avoiding the strong winds over Rocky Mountain National Park.

From Estes Park we accessed the Glacier Gorge Trailhead for Loch Vale, a small lake deep in the mountains below Andrews Glacier. With a total accumulated elevation of 2233 feet on our 7.4 mile round trip to an altitude of 10,268 feet at Loch Vale, this was our most demanding hike so far. We guess we did this hike as part of a longer hike about 40 years ago. WOW!!

2.7 miles to go Loch Vale gets closer

Snowfield across Loch Vale Quaking aspen leaves

(click on picture for video)

Trail Ridge Road

Climbing upon to 12,050 on 48 mile Trail Ridge Road between Estes Park on the park's east side and Grand Lake on the west, we stop at the Alpine Visitors Center for spectacular views in all directions. This day the wind is again so strong that it is difficult to walk in this alpine region. All life here is strained by the winter scouring winds and bitter cold, and only the hardest survive. Tree line occurs at about 11,400 feet. Trees cannot grow where the average temperature of the warmest month is below 50 degrees F. At the visitors center the posted barometric pressure is 18.96 inches of mercury (about 65% of the oxygen available at sea level) whereas normal sea level pressure is 29.92 inches of mercury and the current temperature is 47 degrees F. This lowered amount of oxygen in the atmosphere at 11,796 feet is considered "high altitude".

Elk at 12,000 feet Poles prepared for snow

We returned from Grand Lake to Frisco for one day to pick up a new GPS which had been delivered to the Dunbar's while we were away for a few days.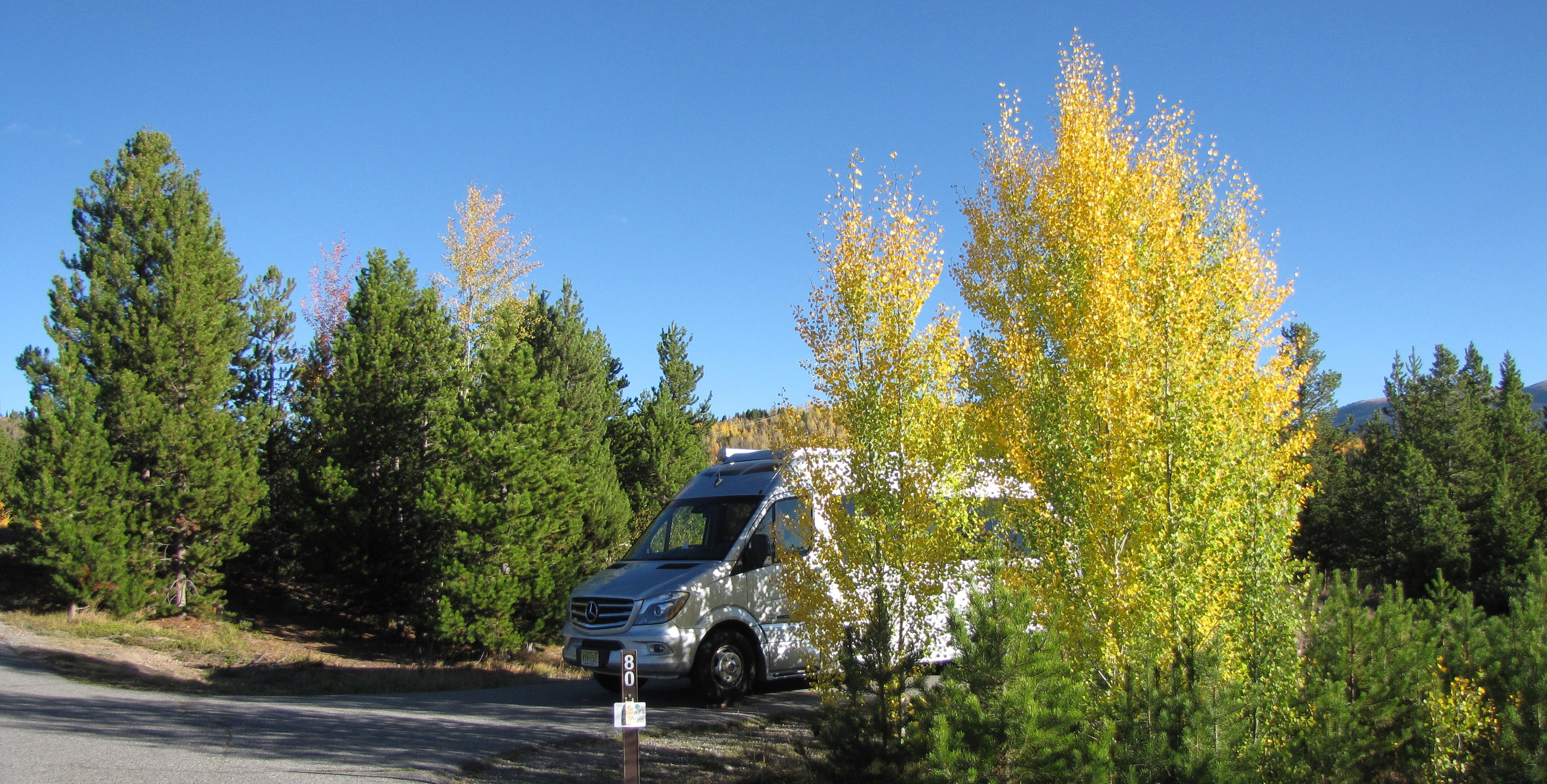 Overnight in Frisco at 9500 feet
Continuing through Colorado
Pat and Dick Gritman have left us to return home in Washington. They have reported that while traveling through Nevada they have been delayed by more than 6 inches of snow in the passes. We are heading to southern Colorado in an effort to avoid below freezing temperatures and snow in our travels.
Return to HOME page