From Colorado to New Mexico
Part 2
Historic Cumbres & Toltec Railroad
The Historic Cumbres & Toltec Railroad is America's longest and highest narrow gauge railroad. Narrow gauge (3 feet between the rails) was chosen instead of the more common standard gauge (4 feet 8 inches) so that the railroad could make tighter turns in the mountains and thereby reduce construction costs. In 1880 crews surveyed, graded roadbed, dug tunnels and blasted passes through spectacular Toltec Gorge, over 10,015-foot Cumbres Pass, and down the 4 percent grade into Chama, NM, where they arrived on December 31, 1880. This railroad hauled mineral ore, timber, cattle and sheep. Now each day tourists enjoy the 64 mile historic steam powered scenic trip between Antonito, CO and Chama, NM, crossing between the states 11 times.
Engines are ready to go Chama freight yard
Leaving Antonito Water stop
From Chama to Antonito Wranglers at work
Chugging uphill Through deep rock cuts
Georgia O'Keefe Landscapes
After waiting out the rainy weather for two days at Ghost Ranch, we ventured out for a spectacular morning hike to Chimney Rock, climbing slowly from 6,500 to 7,100 feet.
Chimney Rock From the top of the mesa
Inspiration for the artist Georgia O'Keefe
Ancestral Pueblo People
Frijoles Canyon, home to Ancestral Pueblo people, is located in Bandelier National Monument. The monument is adjacent to the vast Los Alamos National Laboratory. The first public access road, a visitor center and lodge in the canyon were built in the 1930's by the CCC. The Ancestral Pueblo dwellings are within an easy walk of the visitor center. Ladders give access to several cave dwellings. Stone homes once stood in front of many of these caves.
We dry-camped (no hook ups) at the Bandelier campground for two cool, moonlight nights at 7000 feet.
Talus houses We climb into a cave system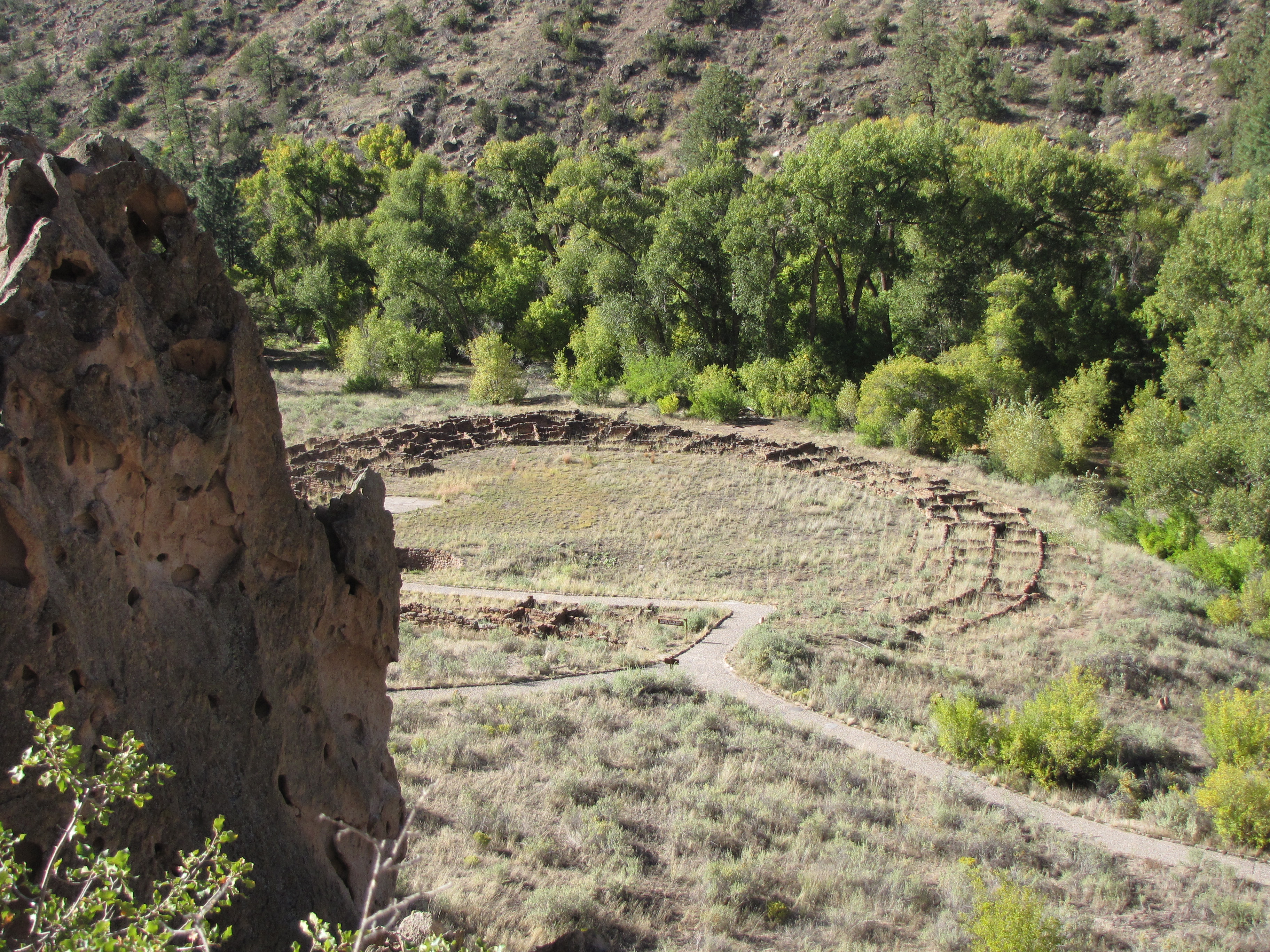 Tyuonyi, on the floor of Frijoles Canyon
Four ladder for 140 foot climb up to the Alcove
The 14 mile wide, 89,000-acre Valles Caldera at 8,500 feet in the Jemez Mountains, encompasses a dormant volcano. Hugh ash flows from the Valles Caldera eroded into the rugged canyon and mesa terrain surrounding the Bandelier area.
Valle Grande Caldera La Jara lava dome
Now we are in Santa Fe, NM for a day of rest and laundry before moving to Albuquerque for the International Balloon Fiesta starting on Oct 7.
Return to HOME page